Hello dollz!
You dreamt of a cultural discovery in Londollz, but you could be embarked on a journey even more incredible!
Get out of the routine and let yourself embark on an incredible time adventure full of mysteries and intrigues.
Will you find the way back to your time? Or will you make a choice that will change your vision of life forever?
You will be able to get the new room, "Londollz", as well as the new talent "Time traveller", this talent gives you a chance to go back in time and be able to work again!
Gorgeous gifts await you! As you progress in the quest, the gifts are getting better and better.
You will also be asked to answer enigmas to win bonus gifts.
In the final step of the quest, you will have a choice to make:
If you choose the "Allons-y!" ending: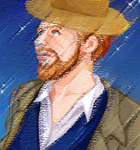 Travel in the time machine and experience an exciting and mysterious encounter with the famous painter Van Gogh in person!
Discover at this stage fantastic elements inspired by the most beautiful masterpieces of the painter, his unique perception of the world, which is reflected in the beauty of his art.
With this step, you will win the new talent "Time traveller"!
This talent gives you an opportunity to "go back in time". Attention, it does not trigger systematically;)
Once you have worked, if and only if this talent "Time traveller" is activated, you will have the opportunity to work again, just as if it was a new day!
This means that if you are still working with this Talent, and the Talent is activated again, then you will be able to re-work AGAIN!
If you choose the "Londollz, 2017" ending:
All these intrigues are not for you! In any case, it was all a dream, a consequence of your bad fall. You have to know how to stay logical, travel in time and space are not real!
With this step you will win the new room "Londollz", as well as the elements to decorate your au pair room trendy, overlooking the Thames.
To access the quest, click on the button in the current offers:
Discover the color variations of the objects you will need for the quest at the Autumn Shop .
You have until Wednesday, September 27, 2017 at 3:00 pm to participate to this quest. VIP subscribers have an additional 24 hours to participate to the quest, which runs until Thursday, September 28, 2017 at 3:00 pm. (CET)
Experience an incredible adventure on OhMyDollz!