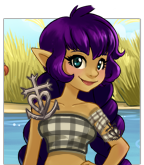 This white pony descends from a long line of horses living in the sunny marshes of southern France, known as the Camargue.
This horse is friend with pink flamingos and black bulls who also inhabit this peaceful place, and the Camargue pony is always ready to carry those on his back who may need to cross this great swamp on dry feet.
Additionally there's 30% off in store this weekend!