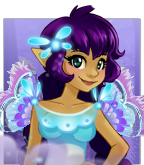 The graceful and thoughtful Mist Fairy slides with ease through the world.
Only in the early morning hours she is visible. Then she travels through our Valley, leaving behind a thin layer of whit mist.
To admire this enchanting spectacle, you have to get up very early!
The set Mist Fairy it exclusive set and will be available in the store only until Wednesday!