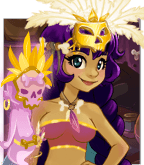 The main function of the Witchdoctor is the communication with the spirit world.
To practice this art, the Marabout uses soul essence, a fine powder which lays on the ground of the spirit world that he harvests with the help of his spirits.
And it seems as if the last harvest was very successful, get one of the many essences for yourself!