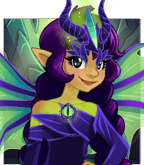 Deep in the swamps of Neewollah slumbers Mogul'Rha, the Guardian of Nightmares.
Through his terrible role, he got the nickname of Cursed Guardian, because if he wants to succeed in his duty of keeping all the darkes nightmares deep in the land of dreams, he needed to become one with the most fearful frights someone could ever imagine.
Can you withstand the terrible gaze of the fifth Guardian?