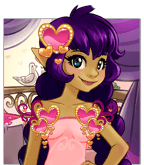 It's Valentine's Day! That day of the year when everywhere in the world, love is the most important thing of the universe.
Actually, on this day the love is so concentrated in our valley, that it got materialized in a majestic Avatar with lots of hearts out of ruby and gold who has a special aura of astounding love.
Seize the day to be with your beloved one, or at least to find them. The Avatar of Love will guide your path!
To celebrate this Valentine's Day together, all the traits in the store are 30% off!