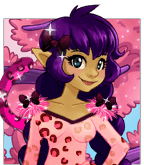 At the south of the Valley, on the border between the Savana of Feline Ponies and the Rozkandy Island there is Pinkypink jungle.
It is in this jungle that lives the pink panther. his coat gives him a maximum camouflage in these sweet places.
Candyfloss rabbits have better to watch out!
PoneyVallée, The Magic Poney Game.
Find this game also on Facebook !