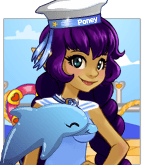 Sailing against strog winds and brave sea, Marin still waiting for the storm that will capsize.
Great lover of the sea, even when not on his boat, he spends his time to contemplate it.
Will you be so brave to sail with him?
PoneyVallée, The Magic Poney Game
Find this game also on Facebook !