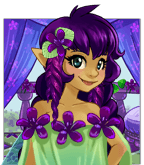 The echo of spring is still very far away, yet Violet has decided to peep outside, on her enormous sleepy mountain.
As she was discovering the joys of winter and snow, the young flower wandered away from her garden and got lost in the woods.
Night is falling and the other flowers are going to start worrying if she doesn't come back. Who will help Violet find her way back to her flowerbed?
PoneyVallee, the magic pony game.
Also on Facebook!