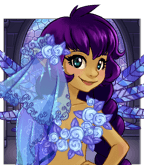 Before she became real, Miss Stained-Glass was a small reflection in love with a young pony. She stroke a pact with the moon to be turned into a creature that could declare her love to her dearest.
Her beloved rejected her at first, but she battled so hard that she triumphed over the lack of understanding of her inamorato.
As she wonders if she made the right decision by dealing with the moon, she is about to live the perfect love with her dearest who is soon going to become her spouse. Will you join the ceremony?
PoneyVallee, the magic pony game.
Also on Facebook!