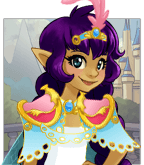 Noble Palefrey is always a few steps in front of Snow-White's coach. He is a veteran of the Witch War. When their true queen was brought back on the throne, Noble Palefrey was the first to kneel in front of the princess, swearing her eternal and absolute loyalty.
He is decided to never let a cheater get on the White throne again, that is why he has recruited the best knights in the realm. They will protect the royal family.
Come and dress up with Noble Palefrey's uniform. The White need you!
PoneyVallee, the magic pony game.
Also on Facebook!