Congratulations to the Runic who won against the Noz!
Thanks to this victory, the "Living Blades" card, at stake during this battle is affiliated to the Runic legion.
Living blades. Rare. Action. Duration 2 fights.
Defense +2 if a card is attached to one of your characters.
Spirit +2 if your next card is a Spell or a Theurgy.
Attack +2 if it is an Item or an Action.
Chain.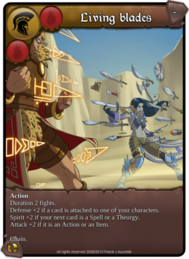 Here is the list of valorous warriors who won
Living Blades
:
MrPYK, Dede71, Alucarde, UIA, jag_7, BP shikamaru, Andrea_Albini, luaninha3000, lilyth, ROMLAV, rasalbino, Davide_Termini, Wanderson_Farias, ~Gonza, The Forcer, Erik_Alejandro_Gonzalez_Caceres, aflameinferno7, Joan_Ruer, ulquiorra gp, Dy_Ken
Enjoy the Game!