Once upon a time, a strong and respected knight, a vertuous man who had dedicated his life to chivalry…
One day, suddenly the kingdom of Yses that he had protected for so long collapsed, and became a prey for the Guem nations during the Big Tournament. Kaes, the brave knight fought with his army from Yses. But destiny fought against him and he died during one of the battles. Yet thanks to Yarils' extraordinary powers, he rose again and reentered the combat, strong and brave as ever. Time has past and Kaes whom everybody had forgot, is back in a world torn apart by war. He also seems to be undergoing a personal interior dual, a clash between his shadow and his light sides.
The guilds are ready to tip the scales in favor of one side… or the other!
You can take part in this event until July 4th 2012 at noon (French time).
Tip the scales:
Two big coalitions have been formed, the powers of the Shadow and those of the Light. Both sides want Kaes to become one on theirs. All are ready to fight.
This fight is a general battle of the guilds. At the background of the Eredan iTCG website, you will find a progression barre that indicates the scales' level.
To win, each side will have to complete certain trophies as many times as possible. The winners will benefit from a 30% promotion on their side's guilded boosters during a whole week.
Light side: Noz'Dingard Envoys, Runic Legion, Kotoba, Sap Heart.
Shadow side: Zil Warriors, Nehantists, Pirates, Desert Nomads.
Trophies
There is a series of 4 trophies for each side. This series is repeatable. Each time you complete a trophy, you get some of Kaes' Reveries and you make your side progress. You can complete each trophy either through the challenge associated to it, either by buying it from the store (199Fee'z).
What's more, a unique trophy will enable you to obtain Kaes' Shadow and Light Shield, once you have completed the series of trophies on both sides.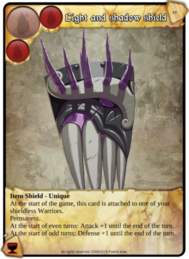 Obtain cards!
We have set up a store specially for this event, The store of the Muser, in which you will find various items.
First, the famous Kaes under both of his aspects: Kaes the Malevolent and Kaes the Protector.
Second, a special booster that contains one card and costs either 300 Reveries or 99 Fee'z. The card obtained can either be an uncommon one, a rare one or one of the more prestigious cards and will be displayed in store and changed everyday (Legendary, former event cards).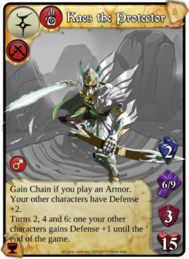 Enjoy the game!