Hello dollz,
The VIP gauge gives you the possibility to accumulate subscription days in order to receive exclusive rewards.
We will celebrate the gauge's second year of existence.  To reward the players who will keep their subscription, new VIP loyalty rewards have been added to the gauge!
Two new stages are now available !
30 months of VIP loyalty will allow you to gain a set of furnitures:
36 months of VIP loyalty will allow you to gain a set of 3 Models:
Reminder: if your prepaid subscription is about to expire or you decide to unsubscribe, you will have 30 days to subscribe to a new VIP option in order to keep the points you already accumulated.
Not a VIP member yet?
If you don't have a VIP subscription yet, then this might be the perfect time to get one!
Until Wednesday take advantage of a special offer on VIP subscriptions in Fee'z!
The three month VIP subscription costs 2000 Fee'z instead of 2999 Fee'z!
The one month VIP subscription costs 750 Fee'z instead of 999 Fee'z!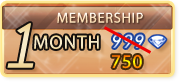 Enjoy it because it's an exceptional offer!
For those who already have the VIP subscription, this offer is cumulative.
Not yet a VIP member?
We give you  the possibility of enjoy and test the VIP membership for one week at a preferential rate if you have never been VIP!
Enjoy your first week discovering the VIP membership for only 150 Fee'z or 199 $$$.
Find all the details on the VIP registration page by clicking on the "Become VIP" button right under your dollz' information.
This promotion is available until the 14. June 2017 11:59 pm(CET).
Do not wait anymore and join the VIP club on OhMyDollz!