The long awaited moment has arrived, the patience of Dahre'ma has reached its limit. The gigantic dragon devours everything within reach and created big unrest among the other draconic colosses.
The Wrath of Dragons
Each Guild did try to negociate with these new sources of power, but only the Avalonian and Tempus managed to make a deal with Panturien, that he would protect their lands.
What is this?
"The Wrath of Dragons" is an event on Eredan iTCG in which you can obtain 10 dragon children, Panturien and the Unique action card "Draconic Battle".
How can I get these offsprings?
Until Tuesday October 20th at noon (CET), you can accumulate Gold by gaining victories anywhere in the Adventure mode or in Tournament. You will win more Gold if you beat the dragons in the Adventure mode.
The new trophy "The Draconic Battle" will be available during the whole event. It allows you to get the unique Action card: "Draconic Battle".
You also get 300 Gold in all 12 card boosters and 100 Gold in 4 and 6 card boosters.
With this Gold you can buy the offsprings of the dragons who will only be available during these 7 days. You can also use your Gold to place bids on the cards for the auctions.
The Dragons
During the event, the 10 dragons will alternate in the Adventure mode, each one appearing during one hour. Caution, these are very dangerous opponents! Prepare yourself well for the battle.
If you beat them, you loot cards and win a Gold bonus.
Clan Trophies
10 Clan trophies are available, one for each dragon. If 20 members of your Clan manage to kill a dragon in less than 7 minutes, your Clan will get the according trophy and all clan members recieve the folowing treasure: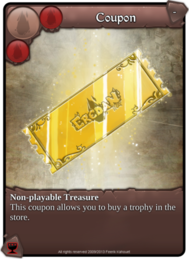 That's right, organising raids with your Clan will allow you to activate act trophies in the store for free and get the hundreds available trophy cards!
After the Event
After the event, the dragons will still appear on the Adventure mode map but not quite as frequently and the Clans can continue their raids on the dragons to get the coupons. Only the Dragon offsprings will not be available anymore.
Have fun!