Cornan is a lone wolf who doesn't care where he's going, as long as there will be something to steal. On this day, he crossed Theya on the road. He needed just a few seconds to steal her Moon Guardian and flee.
A small lake in the middle of the public gardens of Noz'Dingard.
– You look worried, said Kyoshiro to Pythie.
– I am indeed, I have more and more visions and they announce troubled times….
You have until Saturday August 21th 2015 at noon (CET) to take part in this adventure.
Reflections
Before he could reach the Moon Guardian, Cornan had to fight Theya's legendary reflections. Creatures that resemble the big warriors of the lands of Guem.
You can challenge one of the Reflections available via the Eredan iTCG website background, every day. Each time you gain a victory, you are rewarded with a certain amount of Half-moons.
Note: You can unlock inaccessible missions (of past or following days) for 199 Fee'z.
Once you will have won against at least three Reflections, you will obtain the "Stolen Moon Guardian".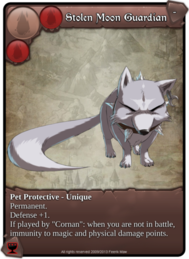 Stolen Moon Guardian: Protective Pet. Unique. Permanent. Defense +1. If played by "Cornan": when you are not in battle, immunity to magic and physical damage points.
Once you will have won against every Reflection, you will obtain "Vicium the stolen".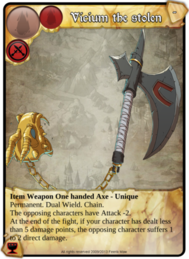 Vicium the stolen: Axe. Unique. Permanent. Dual Wield. Chain. The opposing characters have Attack -2. At the end of the fight, if your character has dealt less than 5 damage points, the opposing character suffers 1 to 2 direct damage.
Half-moons
These Half-moons can be obtained by winning fights against Reflections or via 12 card boosters (guilded or NewComer ones). You can buy your Half-moons in the Equinox store to:
– Buy Cornan: 345 Half-moons.
– Buy a NewComer booster: 150 Half-moons. (You can only buy this booster if you have already bought Cornan.)
You need more Half-moons? You get a pack of 50 Half-moons free each time you buy a 12 card booster (a guilded or NewComer one).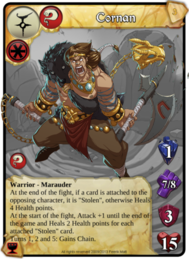 Cornan. Mythical. Character. Mercenary. Marauder. Unknown Race. Spirit 1. Attack 7/8. Defense 3. Health points 15. At the end of the fight, if a card is attached to the opposing character, it is "Stolen", otherwise Heals 4 Health points.At the start of the fight, Attack +1 until the end of the game and Heals 2 Health points for each attached "Stolen" card. Turns 1, 2 and 5: Gains Chain.
Booster Souvenir of the Equinox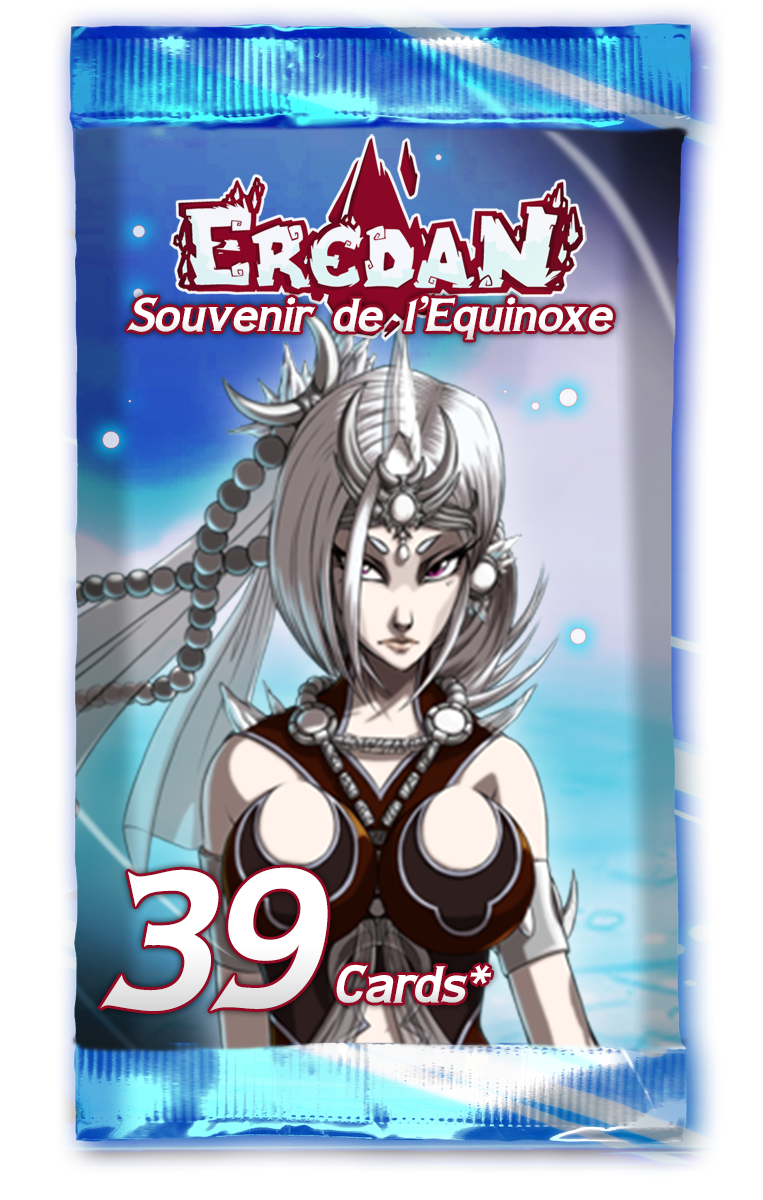 Obrain the Pet Moon Guardian, the Action card Equinox and the Character Theya the Equinoxian by buying the event's 39-card-booster: "Souvenir of the Equinox".
Enjoy the game on Eredan iTCG!