Heute sind neue Karten erschienen auf Eredan iTCG: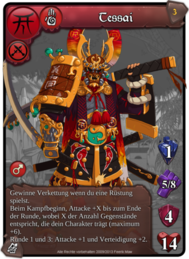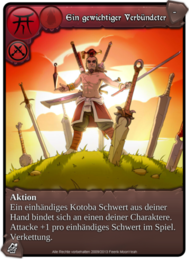 Tessai. (3 Entwicklungen insgesamt). Bei der letzten Entwicklung : Gewöhnlich. Kotoba . Kämpfer. Mensch. Geist 1. Attacke 5/8. Verteidigung 4. Lebenspunkte 14. Gain Chain if you play an Armor. At the start of the fight, Attack +X until the end of the turn where X equals the number of Items you are wearing (maximum +6). Turns 1 and 3: Attack +1 and Defense +2.
Die folgenden Karten sind Neuauflagen von alten Karten.
Überraschende Bewegung. Selten. Aktion. Kotoba . Kämpfer. -4 auf erlittene physische und magische Schäden, wenn eine Kotoba Waffe oder -Rüstung aktiv ist. Wenn nicht: Verteidigung +2. Runde 1, 2 und 3: -8 statt -4. Verkettung.
Ehre dem Kaiser. Ungewöhnlich. Aktion. Kotoba . Kämpfer. Permanent. Deine Kotoba- oder Kämpfer- Rüstungen und einhändigen Waffen aktivieren sich sofort. Verkettung.
Ein gewichtiger Verbündeter. Gewöhnlich. Aktion. Kotoba . Kämpfer. Ein einhändiges Kotoba Schwert aus deiner Hand bindet sich an einen deiner Charaktere. Attacke +1 pro einhändiges Schwert im Spiel. Verkettung.
Diese Karten sind ab sofort im Neuerscheinungen Booster verfügbar.
Viel Spass!