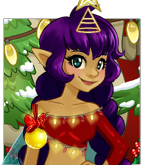 Christman is over and Santa Claus can finally get some rest.
To celebrate this, he throws his annual party for his reindeers, elves and of course for his wife and himself.
For this special occasion he puts on his best suite – red and with golden accents!
The set Father Christmas is exclusive and will stay in stor until Tuesday next week.