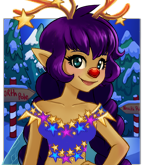 You all know the story of Rudolph, the red nosed reindeer. Poor Rudolph was called names by the other reindeers because he was looking so different with his red glowing nose.
But being different came in handy in the end. When a fog on Christmas Eve made it impossible for Santa Claus and the other reindeers to find their way to the villages and towns on Earth where children were waiting for their Christmas presents, Rudolph became the hero of the day. With his bright glowing red nose he was able to guide the way through the mist and snow and Christmas was saved, thanks to the reindeer that was different.
So don't be sad if you're not like the others. They might laugh at you and call you names, just like the fellow reindeers of Rudolph did. But one day, when they are in trouble and you're the one being able to help them out, they'll realise that they made a mistake.
The story of Rudolph is a real Christmas fairy-tale, enchanting the hearts of the ones who listen and understand.