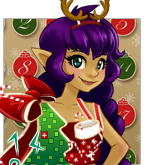 When December starts, the Advent Calendar is a pleasure for young and old alike.
Counting the days till Christmas Eve, the Calendar helps impatient hearts to accept the waiting before the door to the living room gets opened to reveal a festively decorated Christmas tree with lots of beautifully packed gifts.
Enjoy your Advent Calendar, your indispensable companion of winter and the pre-Christmas period.