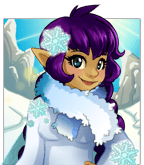 Always following its companion of autumn, the Winter Unicorn arrives in the valley!
Announcing the forthcoming onset of winter, its mere presence lowers the temperatures to make lakes freezing over and snowflakes falling down from heaven.
The set of the Winter Unicorn is exclusive and will only stay in store until next Tuesday!
On the occasion of Black Friday we offer a -40% discount on all Fee'z prices till Monday to celebrate Thanksgiving! Additionally you'll find the exclusive set of the Thanksgiving Turkey back in store with a discont of -50%, also till Monday.