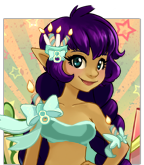 This week, Poneyvallée celebrates its 8th Birthday!!!
Blueberry invited everyone to celebrate this unique moment together and the 8th Birthday set is our special guest.
We would like to thank all of you for yout fidelity and your support.
The set 8th Birthday is an exclusive set and will only stay in store till Tuesday.
Additionally we offer you a great sales discount of 50% for traits and potions over the weekend!