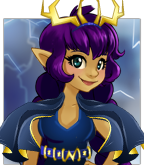 She arrives with the wind and handles the lightning bolts. It's the Storm Queen!
Floating on her stormclouds, she scans the passing landscapes with her blind eyes, feeling the earth holding its breath under her resounding presence.
You should consider prostrating yourself at her feet if you dont want to get struck by lightning.