New cards have been released on Eredan iTCG: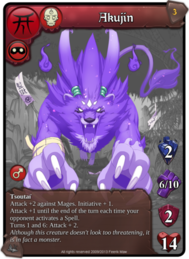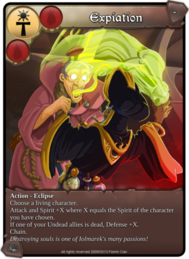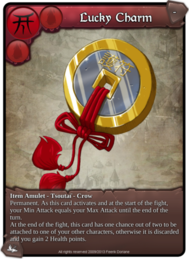 The following cards are reeditions of older cards that got an upgrade. We also added a brandnew evolution to Akujin!
Akujin. (3 evolutions in all). On its last evolution : Uncommon. Kotoba. Marauder. War Guemelite . Spirit 2. Attack 6/10. Defense 2. Health points 14. Attack +2 against Mages. Initiative + 1. Attack +1 until the end of the turn each time your opponent activates a Spell. Turns 1 and 6: Attack + 2.
Expiation. Uncommon. Action. Desert Nomads. Eclipse. Choose a living character. Attack and Spirit= X where X equals the Spirit of the character you have chosen. Chain.
Lucky Charm. Common. Amulet. Kotoba. Tsoutaï. Corbeau. Permanent. As this card activates and at the start of the fight, your Min Attack equals your Max Attack until the end of the turn. At the end of the fight, this card has one chance out of two to be attached to one of your other characters, otherwise it is discarded and you gain 2 Health points.
These cards are now available in the Newcomers Booster.
And Kararine who is part of the basic set also got a new final evolution!
Kararine. (4 evolutions in all). On her last evolution : Uncommon. Desert Nomads. Marauder, Priest. Solarian. Spirit 1. Attack 6/9. Defense 0. Health points 16. Attack +2 against Mages. The Spirit of Kararine and her opposing character cannot be enhanced or reduced more than 2 points. Your other Desert Nomads gain Attack +1/+0 until the end of the game. Turns 2 and 5: Spirit +2.
Enjoy the game!