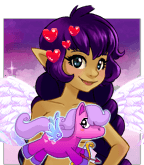 A breeze of love goes through our valley and on its wings gallops the angel of love who is visiting us in person.
This divine creature is escorted by Cupid, his apprentice, and together they want to fill each and every inhabitant with a wave of incommensurable love!
The Angel of love is an exclusive set and will only be available in the store until next wednesday.