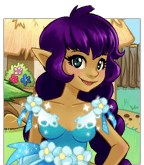 Panacea is the prettiest girl in the village.
Some say it is futile to wear so many ornaments and frills, but they do not know the truth.
Panacea likes to wear and display many little things because they are the gifts of her admirers – and she wears them so that none of them is disappointed.