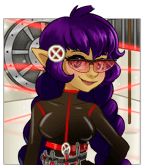 Nothing is out of reach for our Master Thief.
You can hide your precious treasure behind large doors, in heavy safes and protect it with the most sophisticated high tech security system, she will find a way to get it.
And all you will find in the morning is her business card, signed with a large X.