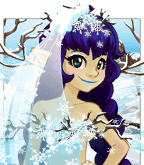 Winter goes on peacefully with its fairy-like atmosphere.
It's during this particular period of the year that you can come across popping bunnies trotting around the valley. These discreet little animals go out only during the winter and they are very shy so be careful not to frighten them.
PoneyVallee, the magic pony game.
Also on Facebook!