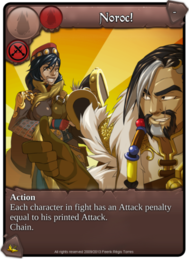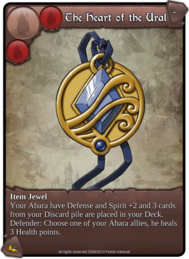 Noroc!. Rare. Action. Warrior. Each character in fight has an Attack penalty equal to his printed Attack. Chain.

The Heart of the Ural. Rare. Jewel. Your Abara have Defense and Spirit +2 and 3 cards from your Discard pile are placed in your Deck. Defender: Choose one of your Abara allies, he heals 3 Health points.

Mistrust. Uncommon. Action. Stone linkers. Warrior. Abara. Your opponent has Defense and Spirit = X where X is the lowest of those 2 characteristics. Defender: you get an Attack bonus equal to you printed Defense.

Nyaga. (3 evolutions in all). On its last evolution : Uncommon. Stone linkers. Warrior. Human. Abara. Spirit 3. Attack 6/8. Defense 5. Health points 11. Gain Chain if you play a Stone Linker Item. After having played your cards, you can discard a card. If you do, your opponent discards 2.

Utga. Common. Sword. Stone linkers. Warrior. Duel Wield. Attack +X where X is you Abara allies' best bonus Defense (Attack +3 minimum). Duration 3 turns. Defender: your allies are tapped.

Harpoon-launcher. Common. powder. Pirates. As this card activates and at the start of the fight, choose an opposing character, he has Defense -2 until the end of the game. Permanent. Marauder: the character chosen suffers 2 to 3 physical damage. Chain if a Pirate Weapon is active.

Confidence. Common. Action. Defense = 0. At the end of the turn, if you are still alive, Heal 3 and Attack +3 until the end of the game.

Enjoy the game!