Players who haven't completed the trophy: The Specter, can now access it from the Eredan iTCG store.
Win 25 games during which you killed more characters than you have lost.
You will earn the card named The Mineptra specter and the title: The Specter.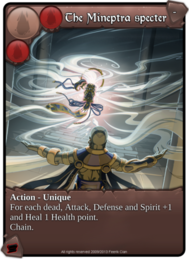 The Mineptra specter: Action. Collector. Unique. For each dead, Attack, Defense and Spirit +1 and Heal 1 Health point. Chain.