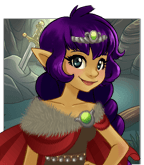 He is the powerful king of ancient times whose name has traveled through centuries.
He was the most resplendent king, who ruled his huge Britannia realm from the top of the Camelot mountain, in his mystical castle made of white stone.
But before he became a great king, Arthur had to meet challenges, the most famous of them being the pulling out of the Excalibur sword from a rock.
Come and follow the steps of one of the most greatest legends.
PoneyVallee, the magic pony game.
Also on Facebook!