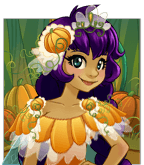 Now Autumn is back, the road that crosses the Hagona marsh and lead to the little realm of Neewollah is open.
The young Pumpkin Princess will be happy to welcome all the travels who are brave enough to cross the marsh and visit her mysterious realm.
You cannot refuse a royal trip!
PoneyVallee, the magic pony game.
Also on Facebook!