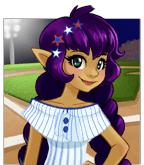 Put on your baseball cleats, your prettiest cap and don't forget your bat, it's baseball time!
Werther your are more bat or throw, you need strength and precision for that sport and strategy also.
Come and show us how good you are at Home runs!
PoneyVallee, the magic pony game.
Also on Facebook!