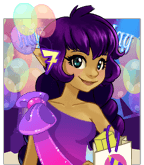 Already 7 years, PonyValley is 7 years old!
To celebrate this Blueberry offers to all the players a Birthday gift that contains 7 random exclusive traits and a 30% chance to receive a part of the excusive 7th birthday set!
What's more, until next Tuesday, all the persons collecting the complete 7th birthday set will receive 2 "big gifts" that contain each one a complete exclusive set.
Finally, a great 30% birthday discount will be applied to all the traits in the store (buyable with Fee'z), only this week-end!
Find this game on Facebook !