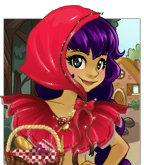 Once again the Red Riding Hood was sent to bring to her grandmother a cake and a little pot of butter and it's a safe bet that once again the wolf is in the game.
But this time the Red Riding Hood (which is not so small anymore) is well prepared and not let that happen, the wolf may be surprised when he receives a surprising attack from his favorite prey.
And you, do you think you can stand up to the wolf?
PoneyVallée, le jeu de poneys magiques.
Retrouvez aussi ce jeu sur Facebook !