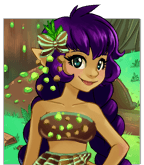 Strawberry Marquessa didn't came alone. She came with her friend Miss Chocolate Mint.
Set at the foot of a chocolate waterfall with pure mint blocks, she installed a renowned chocolatery that provides nowadays to the whole valley delicious chocolate creations.
She really has a great heart… of mint.
PoneyVallée, The Magic Poney Game.
Find this game also on Facebook !