Players who haven't completed the trophy: The Descendant, can now access it from the Eredan iTCG store.
Make evolve 10 different characters.
You will earn the card named Descendants and the title: The Descendant.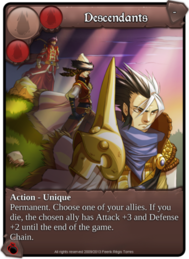 Descendants: Action. Collector. Unique. Permanent. Choose one of your allies. If you die, the chosen ally has Attack +3 and Defense +2 until the end of the game. Chain.