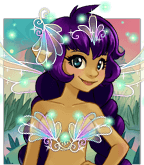 Flying here and there, the Firefly Fairy is one of the smallest members of the village. Bards say she is a star falled from the sky.
Tiny, she likes to use her light to help lost travelers to find their way. What a pity that they regularly confused her with fire elf.
Will you help to make the night less dark?
PoneyVallée, The Magic Poney Game.
Find this game also on Facebook !