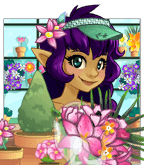 Knowing the language of flowers by heart, a Flower seller is an intelligent pony capable of transmitting any message to any pony knowing the code of flowers.
In addition, maintenance of plants is a delicate art that only the patients Poneys perfectly manage. A sense of aesthetics taste is also required and this makes of the brotherhood Florists an elitist and mysterious congregation …
Who knows what thorn hide under such pretty petals?
Also, we want to take this opportunity to offer you solds: Chasts and Keys will be available at the shop with a 40% OFF until 1st of July at Noon (french time).
PoneyVallée, The Magic Poney Game.
Find this game also on Facebook !