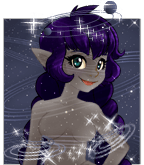 From the top of the sky, looking at the ponies having fun together in the Valley, and tired of his solitary existence away from their sisters, Planet Pluto decided to embody Patura to make new friends.
But is not that easy leave the sky…the imbalance caused by the arrival of the planet in the valley, draw the attention of somebody.
The warried sister of Pluto decided to come too to the valley, looking for Pluto. Did you saw the small planet?
The new release of this set comes with a special promotion: 30% off on Fee'z purchase in the store. This promotion will be available until Monday 29th of May at Noon (French time).
PoneyVallée,The Magic Poney Game.
Find this game also on Facebook !