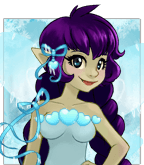 Frost Fairies are little winter spirits whose mission is to spread wintry winter, snow, ice and frost through Patura.
They prefer working at dawn, when they have enough light to admire their work and enough quietness to be at peace. But Frost fairies are also teasing!
But you just have to run to leave them behind and pass on during the cold winter mornings.
PoneyVallée, the magic pony game.
Also on Facebook !