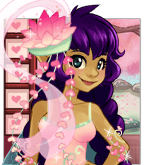 The last party to celebrate New Year will take place tonight and while the last fireworks are illuminate the sky, the villagers know they are soon going to put away lanterns and booths.
While people are having fun and making the most of this very special evening before they have to return to their normal life, a strange silhouette strolls around the little bridge that crosses the river. As it takes the appearance of a beautiful female pony, one can recognize Xijuan, the spirit of the river.
She seems to be looking for someone and a little voice tells you that you should go and help her.
All those who help Xijuan will receive the superb Asian Imperial Set!
Hurry up, this offer is available until Tuesday only!
PoneyVallee, the magic pony game.
Also on Facebook!