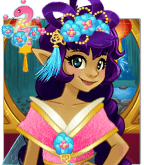 While the party is in full swing, while the fireworks fill up the sky with colors and lights, the Imperial Princess brings the last touch to the antic ritual.
Indeed, when a new year starts, evil spirits must be chased, and good ones must be welcomed. And the Princess, who is the heir of a famous family of spirits is there to take care of these spiritual hosts.
What about you, will you go to the party?
PoneyVallee, the magic pony game.
Also on Facebook!