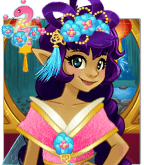 Dàjiā hǎo,
A new year has started in China, and this week we are going to explore Asia and its mysteries.
The festivities start today under the sign of the Water Snake: all week and until next Monday at 2:0 PM (French time), the Asian chest are 50% off!
Breeders, may prosperity and good fortune come to you!
PoneyVallee, the magic pony game.
Also on Facebook!