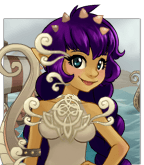 Real Borealis plague, the Wyvern of Is'Jørvik is the worst calamity that has ever hit the frozen continent! Is it on earth or on the sea, nothing can escape its sharp teeth.
Yet, this ultimate predator is a gravid monster. Indeed, the Wyvern is ready to lay. She is a perfect mother who hunts to nourish her brood and make sure it will survive its first winter.
But even if the inhabitants of Is'Jørvik are getting tougher, there is less and less food and preys are smaller and smaller… She drags herself along to her refuge waiting for a man crazy enough to come and defy her.
PoneyVallee, the magic pony game.
Also on Facebook!