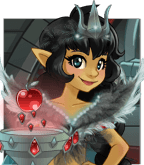 From the dark towers of her imposing castle, the Witch Queen his nastily joyful. The so-called loser of the Witch War is about to reach her goal.
Yes, she is the only one who knows that she had organized the failure of the putsch she had planned!
She only needed to have access to the treasurers of the White heirs during a couple of months, just to find one particular object. The Queen Witch holds a red apple in her hands, her gaze is terribly cruel.
Her awful plan progresses little by little, one thing after the other. But now, the Queen needs help and apprentices so if you want real power too, let the Queen Witch take possess of you!
PoneyVallee, the magic pony game.
Also on Facebook!