Player who haven't completed the trophy: The Dreadful, can now access it from the Eredan iTCG store.
To obtain it you will have to cumulate 100 points. At the end of each game, you earn 1 point for each one of your characters who has changed his appearance. You earn 6 additional points if, at the end of a turn, one of your characters has 6 in Spirit, one of your characters has 6 in Defense, and one of your characters has 6 in low attack. You earn 10 points if you play: Festivities, The Show Must Go On! or 28 zombies later. (Each card will be taken into account once).
You must play against different players.
You will earn the card Ziloween and the title: The Dreadful.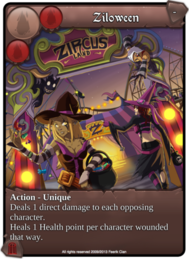 Ziloween: Action. Collector. Unique. Deals 1 direct damage to each opposing character. Heals 1 Health point per character wounded that way.