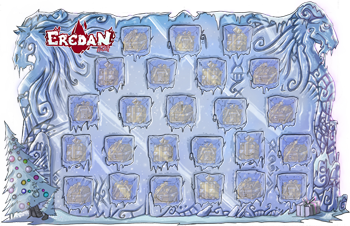 A new Christmas has arrived in the world of Eredan iTCG and it's the grand return of the traditional advent calendar.
Each day, when you first connect the Advent Calendar will appear. By clicking on the day and the date you will earn a gift, this year the Eredan iTCG team will be spoiling you!
Like last year, those who will have opened all the windows will obtain a trophy and a special reward on December 24th.
Note : if you miss a window, you can open it and obtain the gift for the price of 15 Fee'z. And you can continue on your way to earning the advent calendar trophy. The calendar will be available until and including December 31st .
See you on December 1st at 00:00 AM (French time) for your first gift!
You might have guessed! True that Amnezy hasn't been very discreet about them on her Facebook page . A new guild has arrived on Eredan iTCG: The Stone Linkers. These characters are adventurer merchants, specialists of the magic of elements who know all about Stone-Hearts.
You already know Temüjin, the collector character given with the Eredan ITCG Artbook , and you'll soon discover new characters.
NB: Caution, the "Water Elemental" and the "Earth Elemental" characters are now affiliated to the Stone Linkers. Therefore, decks that are not Stone Linker ones in which there was at least one of these two characters are now invalid.
What's more, we have created a new subtype of cards called Stone-heart Jewel Items made of the following cards: Blackened Stone-heart, Nehantic Stone-heart and Stone-heart.
The Big Lottery!
The Eredan iTCG team has organized a big lottery with several lots including exclusive ones at stake! At least 50 lots will be rewarded in all. Here is the list of lots:
– 1 "All the January cards" Pack: You've got it right, one of you will receive a copy of each card released in January (level 1 only, for characters and event cards (weekly or monthly) not included).
– 1 Stone Linker Pack: this pack contains 2 copies of 2 characters (Catalyma, Master Maen), 1 Air Elemental, 1 Fire Elemental, 1 Earth Elemental, 1 Water Elemental, 1 Sorrow harpoon , 1 Rubble plus 3 copies of each Stone Linker card, that is 26 cards (Temüjin isn't part of this pack).
– 3 "All collectors" pack: this pack contains the collector versions of the following cards. Anathematize, Assassination, Strike The Iron, Smash the Spirit, Ceremonial, Blackmail, Freeze!, The Rain Dance, Root, Team Spirit, Let my guns talk !, Nehant's inspiration, Playing with feelings, Mentalism, Obesity, Hit the Road, Perversion, Tranquility, Supplying, Triumph, Overwhelming Victory.
– 10 Ex-libris signed by the Eredan iTCG team.
– 10 Packs that contain 10 200XP cards.
– 10 Packs of 20000 Crystals.
– 15 NewComer Boosters.
How can I participate?
To get a change of winning one of the numerous lots you need a lottery ticket.
How can I get a ticket?
You get:
– 1 in each Advent Calendar window.
– 1 in Basic Boosters.
– 3 in NewComer boosters.
– 6 in the ready-to-play decks (decks bought with Fee'z).
The lottery will end on December 31st at noon (French time), the drawing of lots will take place on January 2nd 2013!
NB: The lottery tickets you got during the "Eredan iTCG Artbook lottery" event aren't valid for this lottery.
Good Luck to all of you and happy December on Eredan iTCG!