This week, we are going on holiday to the vast south plains of the hot savanna.

Let's go and meet the Witchdoctor who will give us a few amulets that will protect us from misfortune during our journey.

That wise man is a powerful spiritualist who knows the shadow plains of the world of spirits as well as he knows the vast sunny savanna plains.

Come and received protection from the Witchdoctor!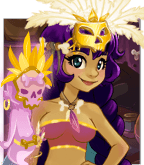 PoneyVallee, the magic pony game.
Also on Facebook!