As was announced on June 8th, there are going to be new versions of some cards.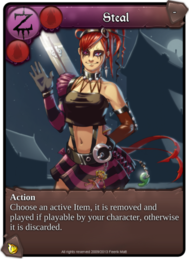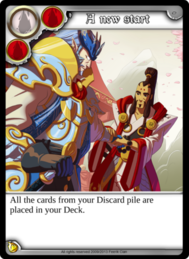 On that occasion, several original sketches by Kahouet such "A new start" or "Fireball" are at stake. For each booster bought and opened from now until June 30th at midnight (French time), you get a chance of winning these precious illustrations.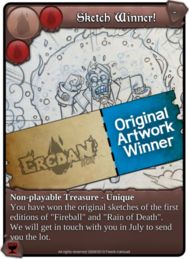 New Edition Pack
A Pack which contains a copy of all the cards reedited, including all its evolutions (see list below) is on sale too. This pack is available until June 30th at midnight (French time) for 9 999 Fee'z.
Each pack you open gives you one more chance of winning one of Kaouet's sketches!
Here is the list of cards:
A new start, Lightning Bolts (and his 2 evolutions), Keep your guard up!, Ice Barrier, Spiritual Duel, Pistolblade, Magic Poison, The Council's Decision, Paladin's Hammer, Sol'ra's Anger (and not Solaris as was written previously), Mirage, Living Dagger (and its two evolutions), Steal, Fallback, A Warrior's Fury, Fireball (and its evolution), Runic Gauntlet, Win using Wit, Watcher and Fight.
Please note that this is not a new card release, therefore these cards won't be in the NewComers Booster.
Enjoy the game!